The Great Manchester Yogathon is back!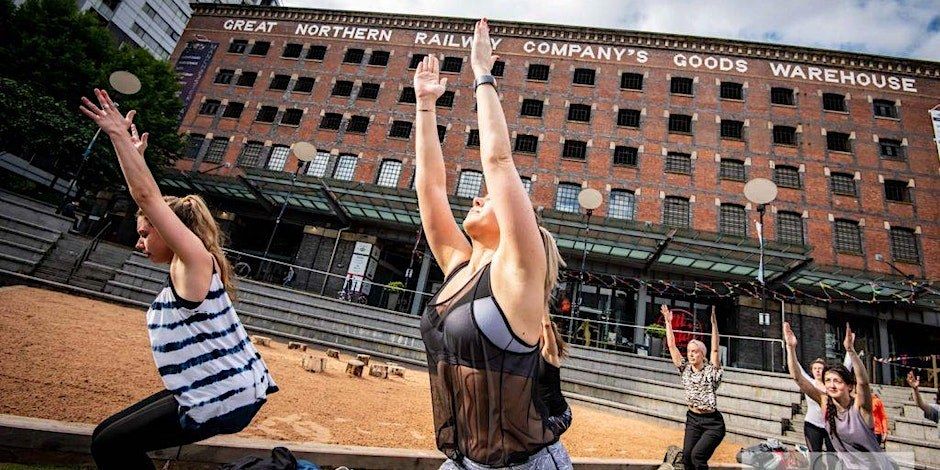 Schedule & Booking
Date: 21/06/2023
Price: £0.00
Wed 21st June
7.30am - 108 Sun Salutations, 12.30pm - Vinyasa Flow, 5pm - Vinyasa Flow
Book Workshop
THE GREAT MANCHESTER YOGATHON IS BACK!
INTERNATIONAL YOGA DAY CELEBRATIONS RETURN TO THE GREAT NORTHERN WITH FREE CLASSES HOSTED BY THE LIFE CENTRE
This International Yoga Day, practice your Sun Salutations a little differently, with free outdoor classes for all abilities at The Great Northern.
Held in the centre of the Great Northern's iconic amphitheatre, world-class yoga teachers from The Life Centre will be running sessions for people of all ages and abilities on 21st June 2023 starting at 7:30am,12.30pm and 5.15pm- 6pm to celebrate this international calendar day.
Kickstart your day by performing 108 Sun Salutations, under the supervision of accomplished yogis, as the sun rises over the city. Then enjoy classes that are tailored to suit all ages.
7.30am- 9.30am - Take part in 108 sun salutations
12.30 - 1.15pm - Join a lively functional flow yoga class
5pm - 5.45pm - A fun and friendly Vinyasa yoga class.
Mats will be provided in the Amphitheatre, and all proceeds will go to Eat Well Mcr - supporting people in poverty across Mcr.