Kundalini Yoga with Beth Morgan
After dabbling with various types of yoga, Beth discovered Kundalini yoga on a retreat in Egypt in 2007 and quickly realised how powerful this practice was, making her feel great both during and after. Kundalini yoga allowed her to reach a place of peace in a particularly difficult and stressful time in her life, and she soon realised that she wanted to share this life changing practice with others.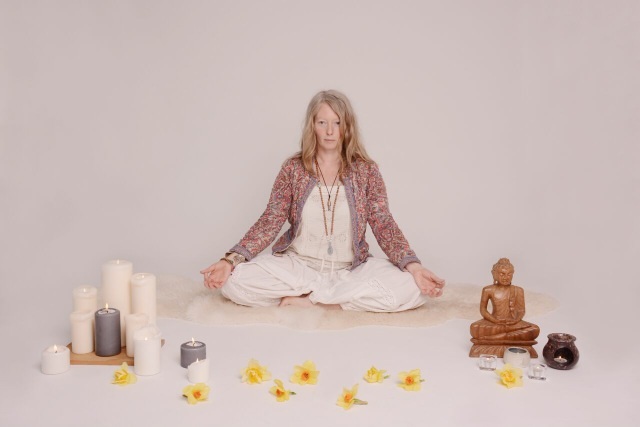 What drew you to your style of yoga?
After dabbling with many different styles of yoga, I came across Kundalini Yoga on a retreat in Egypt in 2007. I swiftly realised how powerful it was, it produced dramatic results in me quickly, leaving me feeling energized yet serene at the same time (this joy and inner peace is now something that stays with me deep down).
I loved the fact it is mainly done with your eyes closed, encouraging a meditative state of mind and giving you a deeper experience of your inner world.
I was drawn to the powerful and uplifting music played throughout the class, I found the rhythm helped motivate and carry me through the exercises (which are often repeating the same movement for a while!). The music also enhanced the moments between exercises – the quiet times when the integration of mind, body and spirit is happening.
Kundalini Yoga combines mantra, movement, breath work and meditation – it is a complete work out for your mind, body and spirit.
Kundalini Yoga is often called the yoga of awareness – It has certainly helped me become more aware and awake. It gives me a pure form of energy which I think radiates from the connection of my heart, mind, body and soul. I feel vibrantly healthy and alive and more importantly it has given me the tools to self heal and come to terms with the past.
Where might we find you on your days off?
Creating or in nature.
Creating whether that be cooking a meal to share with my boyfriend or friends or sewing/crafting. I adore cooking and love combining different colours, tastes and textures in food – I'm really inspired by the chef Yotam Ottolenghi – so LOVE his food.
One of my other passions is sewing and textiles – and every spare moment I have(which isn't a lot currently!) is spent making a range of cushions and yoga accessories, and floor cushions.
Otherwise you will find me in my garden, growing veg or generally pottering.
If I have more than one day I'll often take a trip to the coast… I love being by the sea!
If you only had 10 minutes to do some yoga, what would you do?
This would vary depending on how I felt. One option would be a typical set of kundalini warm up exercises, two minutes each of spinal flex, sufis grind, spinal twists, neck rolls and life nerve stretch. These movements increase the flow of spinal fluid working all 24 vertebrae, helping to increase flexibility and also wake up your energy.
Alternatively I would do Kirtan Kriya – one of the most important and powerful meditations in Kundalini Yoga. Whatever you need at that moment, it will re adjust and align you to bring balance into your mind and life!
It involves chanting, whispering and silently vibrating the mantra SA TA NA MA (the cycle of creation – infinity, life, death and rebirth) along with different mudras
Clinical research has shown that practising Kirtan Kriya for just 12 minutes a day can improve cognition and activate parts of the brain that are central to memory. This simple exercise reduces stress levels, increases circulation in the brain promotes focus and clarity and stimulates the mind, body and spirit connection
What is your favourite post practice meal or snack?
Avocado on toast with some chilli sauce and a sprinkling of seeds on top.
Why should everyone give Kundalini Yoga a go?
There's an abundance of reasons – Kundalini yoga is a powerful and effective form of yoga, it is a yoga for everyone, no matter what your fitness level or age. It can help get rid of stress, anxiety and addictions, it can also help with digestive problems, depression and other physical and mental ailments. It can help you self heal, release fear, break bad habits, open your heart and bring you joy!
If you are struggling with something in your life Kundalini Yoga can help you move beyond it.
Kundalini yoga takes you to a place of peace and can change your life. I know it has changed mine.